THE FUNDRAISER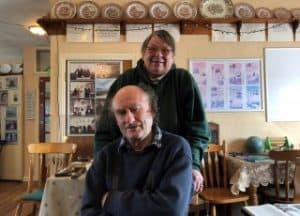 Turas  Siar is now in need of immediate renovations to conserve all this work and guarantee its future and also to make it and a more attractive and comfortable place for visitors.
We need a fund of 85,000 for a central heating system, new lighting inside and out, the completion of a boundary wall, appropriate alarms, security and signage and a much needed storage facility.
The money would also fund the provision of a space where university students could come to carry out research for their studies and also allow us complete some outstanding projects in process, all relating to the ancient history of the Mullet.
Turas  Siar is a non-profit organization who depends solely on donations to keep it running.
So now we are in the position of appealing to the generosity of people to enable us to keep the project going and to preserve all the material here.  Time is of the essence… records, artefacts and photographs are fragile and at severe risk of deteriorating without the provision of better facilities and exhibiting conditions.  There are still so many projects and research to be done here at Turas  Siar but we desperately need funds  now to renovate and save all the history already here.
We have launched a fundraiser on idonate.ie where people can make a direct donation. Please click on the link below:
https://www.idonate.ie/crowdfunder/TurasSiar
Or contact us by calling 087699 0505 or email turas.siar@yahoo.ie